Minerfly: Missions & Research
MinerFly is a total flight services program that provides researchers a means of gathering research data through the use of safe and field-tested aerial vehicles, both manned and unmanned. This service involves experienced human pilots, payload operators, and capability to apply one or more remote sensing instruments. MinerFly operations ensure regulatory compliance while providing total air operations support. Researchers who use MinerFly services can significantly reduce the amount of time, expertise, and money that is required to collect their desired data safely and legally.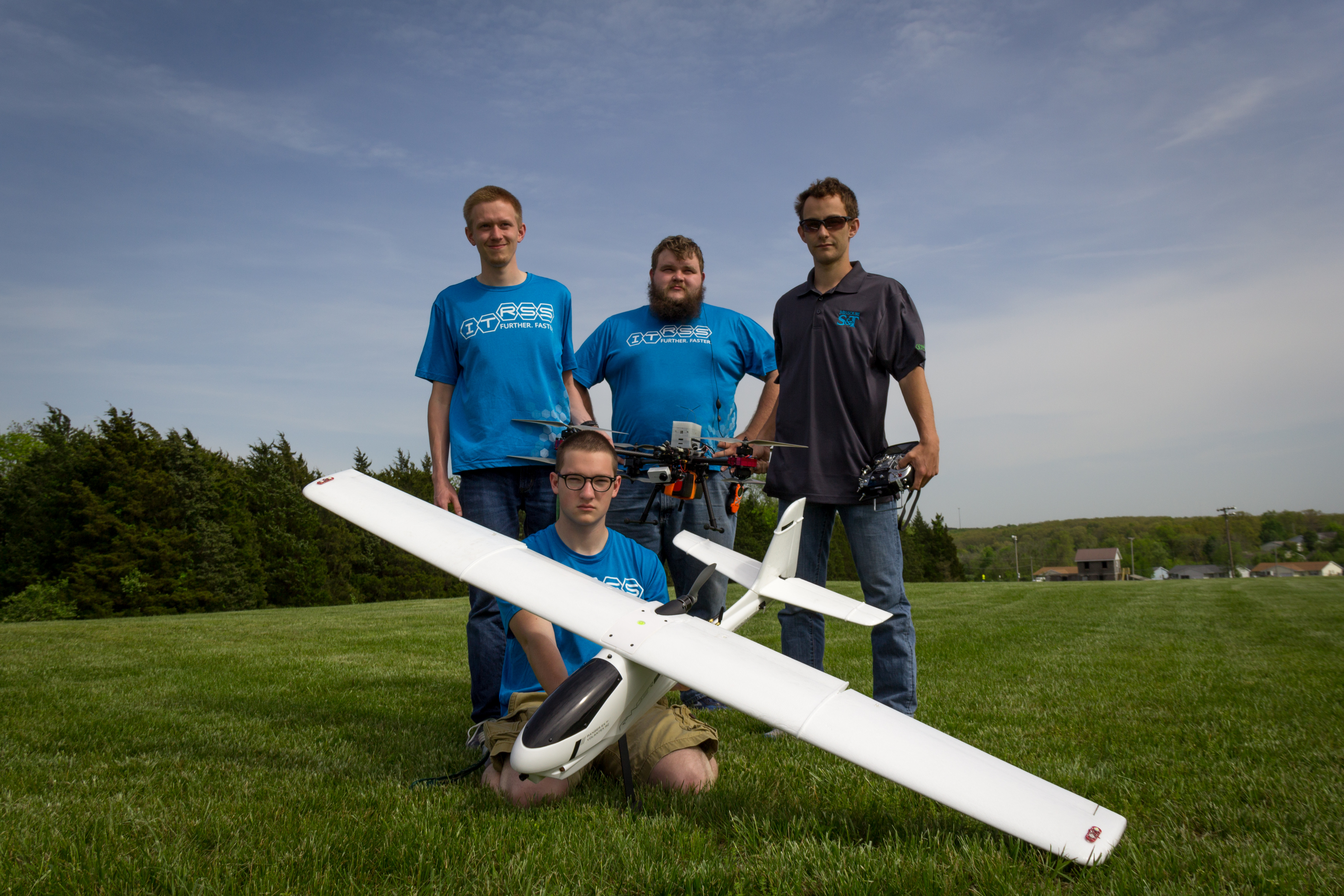 Missions
All current UAV platforms utilize at least two MinerFly personnel per mission.
The first crewmember is required to be an experienced human pilot on standbye. The pilot is responsible for the airframe and to ensure the aircraft is ready for flight. The pilot is to take over from the autopilot in the event of a system or component failure, ensuring the minimum risk to the payload, personnel, and property in the flight area.
The second crewmember is the ground station operator. This crewmember is responsible for ensuring the health of autonomous systems prior to launch, creating flight plans, and providing and recording flight data during the flight.
Additional crewmembers may be required for a mission. These additional crewmembers may act as a visual observer to maintain eyes on the aircraft throughout the mission, and relay flight information to the pilot.
A data specialist is also required for each mission. This person is typically from the research team and will have knowledge of the sensor and related data. The data specialist will need to be present to prepare the sensor, and validate the data collected during the flight.
The two MinerFly crew members work together with the data specialist to obtain the target data. The crew is connected to the airframe and the payload in real time through both telemetry and first-person video feeds from the aircraft. Detailed flight log data is retained on board the aircraft, retrieved after landing, and stored for future review.
Sensors
MinerFly does not provide research sensors for aircraft; however, our aircraft can be modified to fit a wide variety of sensors needed by the researcher.
Sensors and payloads will be matched with the ideal unmanned vehicle best suited for the purposes of the researcher. Our aircraft were designed and built to carry research equipment for testing and operational checks. Some sensor capabilities and purposes are listed below:
Infrared scanning equipment to determine areas of concentrated or dispersed heat, or to measure plant health

Photos or videos to aid in surveying, disaster assistance, or risk management

Radio frequency sensing equipment to survey cellular coverage or observe long-range signal degradation

Communication systems to help relay information in the event of a disaster

LiDAR scanning equipment to determine tree or building heights, foliage health, or explore oil and gas reserves.

Multiple types of optical and acoustic sensors to collect traffic data

Other instruments that a researcher may require to collect various aerial data
Frequently Asked Questions
Q1. What sort of rules and regulations are out there for drones?
The FAA currently regulates UAS (aka small drones) through their Part 107 ruleset. Details can be found at https://www.faa.gov/uas/
Q2. Why would I use Minerfly if I can just go buy my own drone and fly it whenever I want?
While flying recreationally is still mostly unregulated, flying professionally in any capacity requires a part 107 certificate. To obtain this certificate you must pass a written test proving you have the knowledge to fly safely. MinerFly currently has 2 certified pilots, each with several logged flight hours on each platform to ensure our missions end as uneventfully as possible.
Q3. Is Minerfly a design team?
No, we are service provided by ITRSS. Our goal is to provide safe and legal airborne data collection for campus researchers.
Q4. Is there a cost associated with your service?
Yes, the fee associated with our services is necessary to cover our operating costs, but is nominal. Expenses vary based on the needs of the research mission.
Q5. I still have questions, how do I contact the people at Minerfly?
The best way to reach us is by email. Contact us at minerfly@mst.edu.