What is/how do I use the Forge?
The Forge is a high performance cluster computer. The Forge is available for S&T students without any additional cost to them, they simply need to request access through the help desk and fill out a form which will be emailed to them after the request is made.The Forge is available to faculty members through two lease options, they may either purchase non-priority CPU hours good for a year, or priority access to a specific set of hardware for 3 years. Faculty should contact IT Research Support for more information.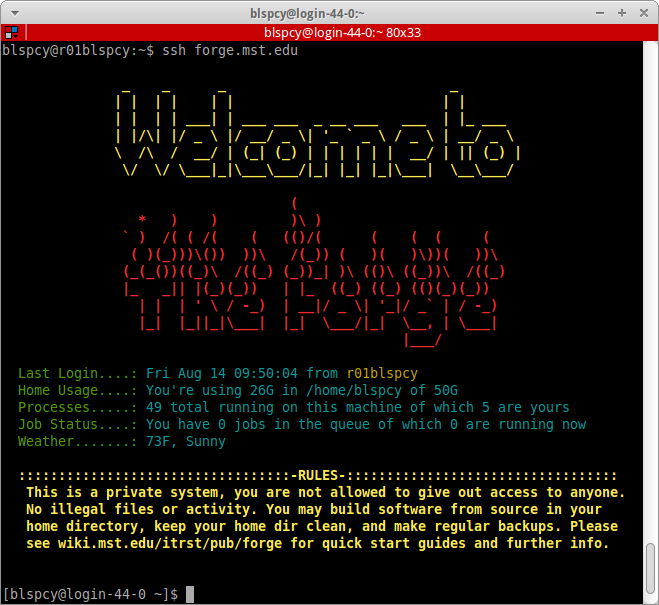 Software
The Forge is built on CentOS 6.5 and utilizes SLURM as a scheduler and resource manager. The Forge has several compilers available through modules, such as the Intel and GNU Compiler Suites, as well as several commercial software titles available to campus users.
Hardware
With The Forge an additional 20 teraFLOPS of compute capacity has been added to our existing hardware, which brings the total compute capacity of the cluster up to 40 teraFLOPS. The new hardware brought into the Forge comes as 20 Supermicro
SuperServers which each house dual 16 core Intel Haswell processors running at 3.6 Ghz with 256 GB of memory. Total home directory space has also expanded to 350 TB of shared storage with 6 GB/s read and 2.3 GB/s write speeds, accessible by all nodes of the cluster. Once all the hardware from the NIC cluster is integrated we will have a total of around 150 compute nodes, and 16 GPU equipped nodes incorporated into the cluster.
Where will my jobs run?

If you are a student your jobs can run on any compute node in the cluster, even the ones dedicated to researchers, however if the researcher who has priority access to that dedicated node then your job will stop and go back into the queue. You may prevent this preemption by specifying to run on just the general nodes in your job file, please see the documentation on how to submit this request.
If you are a researcher who has purchased priority access for 3 years to an allocation of nodes you will have priority access to run on those nodes, if your job requires more processors than there are available for your nodes your job will spill over to the general access nodes at the same priority as the student jobs. You may add users to your allocation so that your research group may also benefit from the priority access.
If you are a researcher who has purchased an allocation of CPU hours you will run on the general nodes at the same priority as the students. Your job will not run on any dedicated nodes and will not be susceptible to preemption by any other user. Once your job starts it will run until it fails, completes, or runs out of allocated time.
A detailed guide to using The Forge can be found at the IT RSS wiki page.